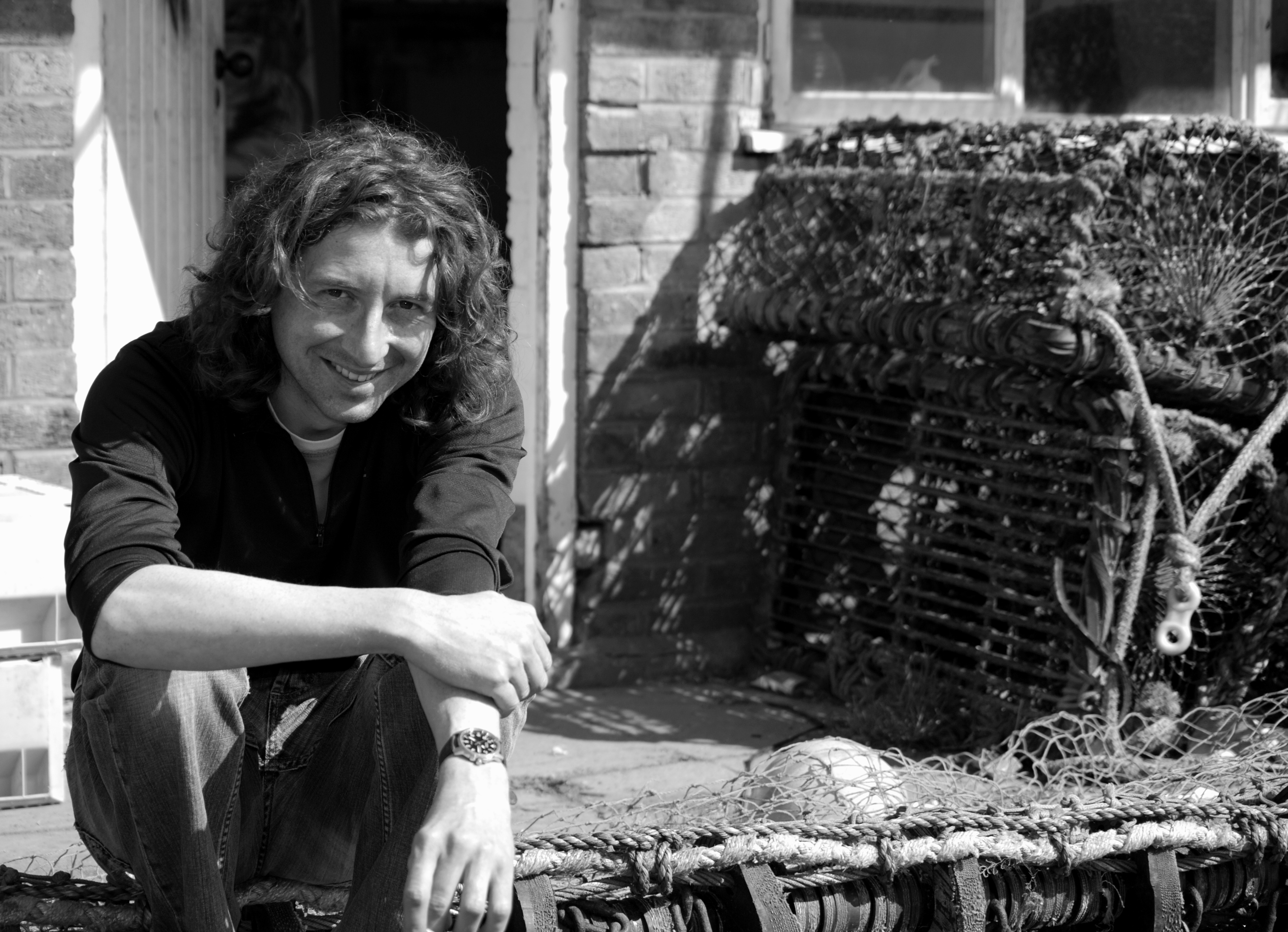 Andrew Cheetham was born in Heywood, Lancashire in 1971.
He has been selected as Artist in Residence at Knaresborough Castle and in Rosedale Abbey on the North York Moors.
His Artwork could be described as documentary in that he prefer to work from life.
He has focused on former centres of Industry and Commerce, depicting the grandeur and dramatic beauty that he finds in the physical remains of our Industrial heritage.
Andrew began documenting the Fishing Industry in 2000 and after making enquiries to the Harbour Master, converted an empty baiting shed on the harbour's West Pier into a studio. Whilst at first the fishermen were wary of him  they became used to him drawing them at work and he has accompanied them out on their boats several times. Throughout this time the sea has been a constant in his work. Constantly changing, constantly inspiring.
His recent graphite drawings of the North East are combined with a painterly oil mixture, creating specific images of place yet allowing room for the imagination.
Education
1995 – 1998 Central St. Martins College of Art
1990 – 1993 Liverpool John Moores University
1989 – 1990 Manchester Polytechnic
Residencies
2009 Rosedale Abbey, 'Inspired by Heritage'
2006 Knaresborough Castle, Artist-in-Residence
Experience
2016 'The Prison Drawing Project', Artist Technician 
2011 3 Day Masterclass, Ferens Gallery, Hull
2004 – 2010: Running courses in life-drawing 
2004 – 2014: North Yorkshire Open Studios
2000 – 2004: Studio Holder, Crescent Arts
2001 – 2004: Exhibitions Officer, Crescent Arts
Grants and Awards
2007 Shortlisted 'Discerning Eye' Drawing Bursary
2005 Arts Council England 2001 Yorkshire Arts
Publications
2015 'Art & Yorkshire; From Turner to Hockney'
2011 'Yorkshire Post Magazine' 30th May, Feature
2010 'Inspired by Heritage'
2008 November issue of 'Country Living' Magazine
2007 'Andrew Cheetham: A Sense of Place'
Collections
Scarborough Art Gallery
Mercer Art Gallery, Harrogate
Lord & Lady Derwent
Solo Exhibitions
2010 'Andrew Cheetham' – South Street Gallery, Scarborough
2009 'Inspired by Heritage' – Updale Reading Room, Rosedale
2008 'Recent Work' – Scarborough Art Gallery
2007 'A Sense of Place' – Mercer Art Gallery, Harrogate
2005 'Drawings & Paintings' – Crescent Arts, Scarborough 
Selected Group Exhibitions
2019 'Open Exhibition' – Gallagher and Turner, Newcastle-upon-Tyne
'North York Moors Art Award' – Inspired by Gallery, Danby Moors Centre
'East Coast Open', Scarborough Art Gallery
2017 'Curated Space', Python Gallery, Middlesborough and touring
2016 'Enduring the Elements', Pannett Art Gallery, Whitby
'The Prison Drawing Project', Dean Road Prison, Scarborough
2015 'East Coast Open' – Scarborough Art Gallery
2014 'Art & Yorkshire; From Turner to Hockney' – Mercer Art Gallery
2012 'Your Place' – Inspired by Gallery, Danby Moors Centre
2011 'Forces of Nature' – Inspired by Gallery, Danby Moors Centre
2010 'Inspired by Heritage' – Mercer Art Gallery, Harrogate
'The View from the Tracks' – Bianco Nero Gallery
'Now – Then' – Triton Gallery, Sledmere House
2009 'Something in Common' – Zillah Bell Gallery, Thirsk
2008 'Newcastle Gateshead Art Fair' – The Sage, Gateshead
'Monochrome – Excellence in Greyscale' – The Lund Gallery
'A Year in Beverley' – Beverley Art Gallery
2007 'Discerning Eye' – Mall Galleries, London
'Facing North' – Maiden Bridge, Lancaster
'High Tide' – Helmsley Arts Centre
'The Sea' – Bianco Nero Gallery, Stokesley
2006 'North Yorkshire Open Studios' – Mercer Art Gallery, Harrogate
'East Coast Open' – Scarborough Art Gallery
'Ferens Open' – Ferens Art Gallery, Hull
2005 'Winter Open – North East Artists' – Saltburn Artists' Project
2004 'SHO4' -Studio Holders' – Crescent Arts, Scarborough
2002 'SH**' – Studio Holders' – Crescent Arts, Scarborough
2001 'Celebrating the North York Moors' – Scarborough Art Gallery
1998 'New English Art Club' – Mall Galleries, London
1996 'Art in the Dockyard' – Historic Dockyard, Chatham
1994 'New English Art Club' – Mall Galleries, London
'Manchester Academy Open' – Manchester City Art Gallery